UKSUG are hosting a Masterclass update on 5 June 2019 at America Square Conference Centre, London.
Email: uksug@pbprojects.co.uk to register.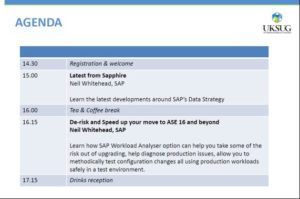 SAP has launched its Schedule an Expert service.  SAP customers can now book a 30 minute call with Schedule an Expert to discuss technical details of an open incident with a support engineer.  It is open to all SAP customer support levels at no extra cost.   Find out more
This is a great new enhancement to SAP Replication Server. Automatic memory management in 16.0 SP03 PL04 supports replication of multiple databases (certificated with 20) in parallel, with simpler configuration steps than were previously possible.